REPORT OF THE FOUNDATION BOARD AND COMMITTEE MEETING
The weekend of the 5th to 6th November 2011, both Committee and Foundation Board had their autumn meeting. After receiving the directors' report, presented by Jens Sheeran, Operational Director, and Myriam Heidelberger Kaufmann, General Director, the Committee received the Safety Report as well as the Overnight Forecast which counts on 65'000 overnights for 2012 instead of 59'000 for this year. The Budget 2012 shows a small surplus of around 3'000 CHF as a result of the projected overnights and was approved unanimously.
The Operational Plan, based on the strategic guidelines, presented by the General Director showed the priorities for the next years. The Centre wants to start with developments in Programme, Staff and Catering and focus on how to transfer the Magic of KISC on to other places like Jamborees and events as well.
The European Scout Region informed the Committee about the financial status of the European Region and discussed with the Committee ways forward to continue ESR's support for and cooperation with KISC.
Marc Lombard, chairman of the Foundation board, opened the meeting after a calm year. Future plans of the Foundation are the renewal of the outside area of KISC to make it more welcoming for guests. The name of this new project is "Welcome2KISC" and refers to the first bigger project "Next Generation Chalet". It also includes easy access to the centre from the parking ground for people using wheelchairs and should provide for an ecological heating system in Sunneblick. As per standing policy, the Welcome2KISC Project can only be realised if the funding is secured in advance.
The budget of the foundation plans for an annual reduction of the mortgage to be ready for further investments on a longer term.
The meetings were rounded up with an international evening, organised as a joint event of Committee, Foundation Board and Staff of KISC.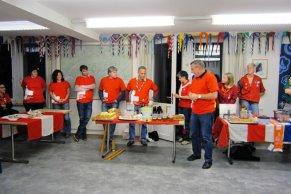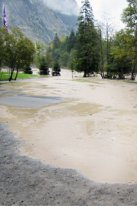 KANDERSTEG FLOODINGS
As we already covered in a special edition of Latest News (see link on the right), the Bernese Oberland and with it KISC, as well as the entire town of Kandersteg were struck by severe floodings due to massive snowfall from the 8th to 9th October and the quick melting of the snow the next day. Even though the harm done to the Centre and the village was comparatively low, we were cut off from the North for a week. For two days, office life felt a bit like at the beginning of the 90s again without any internet and therefore no access to the server and the files stored on it. Several Pinkies were helping cleaning the village together with the Spanish Work Party and were thanked by village officials for this. The slight damage done to the Centre was fortunately covered by insurance, so by now we are back to business as usual and are waiting on more snow and less water for Winter!
LINKS







IMPRESSUM:


Text: KISC PR
Pictures: KISC Collection
Contact: pr@kisc.ch