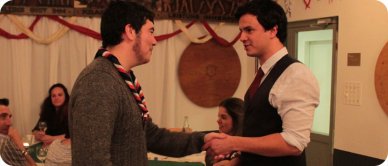 A special family Christmas
The Baines Family visits Kandersteg every Christmas. They began visiting KISC for over 40 years ago, when they themselves were Scouts. Their children both learnt to ski when they were two and a half years old in Kandersteg and Joshua, the eldest, took his first steps at a year old in the Old Chalet. For the Baines Family it was another truly memorable Christmas: Jacob Baines, the youngest son, achieved the highest youth member award in Scouting – the Queen's Scout Award. It is awarded for outstanding personal achievement, leadership, many hours of service and for much more. We congratulate Jacob on this excellent achievement and hope he enjoyed the rare honour of a surprise presentation of his Queen's Scout certificate during their Christmas break at KISC.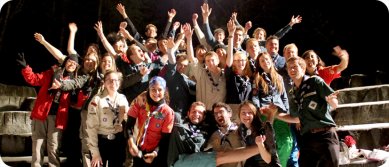 International Rover Week 2015: Winter edition
Friendships created, lifetime memories made, Permanent Mini Jamboree feeling experienced... International Rover Week mission completed! 
For 29 Rovers from 13 different countries were the last days of 2015 at KISC a cherry on the cake of the whole year - hiking up the snowy alps, sharing songs during the campfire and celebrating the New Year together! We hope that all the participants brought home a big backpack full of great memories and new friendships!
"This week holds a special place in my heart and it contains memories that I will always cherish and won't soon forget." - Ben DeRemer, the participant of Winter IRW 2015