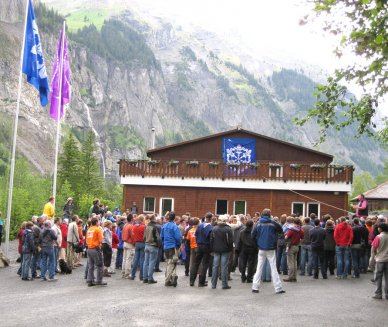 ---
Registration for the General Assembly
You can now sign up for the General Assembly by filling out the online registration form.
You can sign up for the whole weekend or just for the General Assembly on Sunday 6th June 2010. KISC Association Members can stay for free (overnights and meals) from Friday dinner to Sunday lunch inclusive. If you want to arrive earlier or depart later we will make an additional booking for you and the regular overnight and meals prices are applicable.
The online registration form is available here.
---
Information regarding the General Assembly - 6th June 2010
On June 6th, 2010, our 2 yearly General Assembly will take place. KISC Members have the possibility to decide about the future direction of the Centre, to elect the KISC Committee and to hear more about what has happened in the past 2 years. The information regarding the General Assembly can be found here.
All the general information will be available on the public part of the website. The specific information, such as documents and candidate profiles for the elections, can only be found on the secure part of the website (Members only).
To gain access to the secure section of the website you need your personal username and password. If you have lost your login details or never received them, please contact the Administration Assistant - Kaspar Tribelhorn (CH).
---
"Mini" Members Weekend
We are working hard on the details for a "Mini" Members Weekend.
The preliminary programme for this weekend is:
Thursday: arrival and welcome
Friday: varied programme
Saturday: varied programme, including afternoon workshop. Evening: International Evening
Sunday: General Assembly, Open House, BBQ and departures in the afternoon or free afternoon with the option to depart on Monday
We will publish the final programme etc. as soon as possible on the KISC website.
---