There were a few highlights in the past weeks. On the 12th of April, we celebrated KISC's 93rd birthday and on the same day, we started a big project for the renovation of the grounds area in front of the Chalet. To recall this special day, watch a KISC birthday video or check out all the photos marked on social medias with #happybirthdayKISC. If you are curious about the work around the Chalet, watch the video from the first day of work on the Welcome2KISC project.
Another highlight was a highly successful Ambassador's weekend with 19 International Scouters, Commissioners, and our current Supporters. KISC Ambassadors are people representing KISC in their countries, helping us to increase the Centre's visibility in World Scouting, and to connect groups with KISC
Besides all the work around these special events, the work in the Chalet continued at full steam. Our House department took care of waxing the dining hall and deep cleaning while our programme team replaced all the sleds, skis and other winter equipment with summer one. So far we have had German, Spanish and Dutch Work Parties come through, leaving the Chalet cleaner, the wood compound stacked with wood, and our campsite ready for summer.
The next few weeks are sure to fly by fast as the KISC calendar is quite a full one. We are waiting for the last 3 pieces of the Long Term Staff puzzle, the help of the Slovak Work Party, and a few bigger groups staying with us.
Despite the unstable weather over the last month, we believe that warmer days will soon be here with consistency and that our Spring Shorties will enjoy some sunbathing before they leave.
Celebrating KISC birthday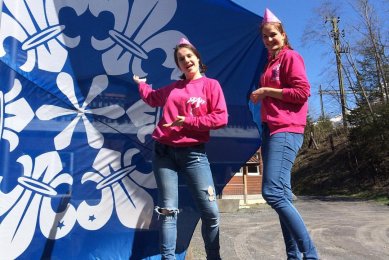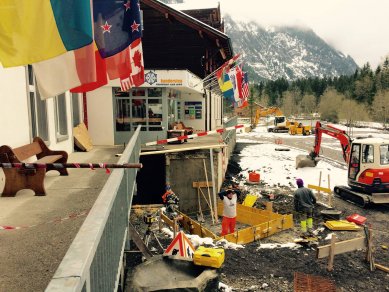 Work on the Welcome2KISC project