Dear Friends,
We are finishing the Autumn 2009 staff season in a few days time. In 12 different cities, towns and villages all over the world the Winter 2010 Staff is preparing for their immenent departure to Kandersteg. Can you remember how you felt and what you were doing in the few days before your departure?
In this newsletter we like to inform you about the following items:
Renovation Ground Floor
Ex-Staff Reunion
Wedding in Brasil
Vacancies available for Summer 2010
Seasonal Greetings
Enjoy reading!
---
Renovation Ground Floor
The renovation of the Ground Floor of the Old Chalet is coming to an end and on Sunday 6th December 2009 we organised an 'unofficial' inauguration to celebrate the incredible result with the Autumn 2009 Staff. Their hard work and motivation made this result possible.
The Reception Area is more or less finished and it is now the task of the 'old' reception and programme offices to integrate smoothly into the this new joint office. The Shop will be set up this week as well as the 3 communal rooms. The names of these 3 rooms will be changed to reflect the 3 pillars of the KISC Programme. The new Main Hall will be finished by 12th December (we hope :-)) and then we need to clean and set up. House has a challenging task to clean and fix the hunderds of scarfs in the rooms and corridors.
Do you want to know more about the result? Well, come and visit us so we can show you around!
---
Ex-Staff Reunion
On the 26th December 2009 the Ex-Saff Reunion 2009 will start and all the beds at the Centre are booked with many more in the village. At the moment it is still not fully clear how many Ex-Staff will be in Kandersteg but we think that at the New Years Eve party we will have 100 of you here!
If you are joining us for the Ex-Staff Reunion and you want to eat meals at the Centre, please contact Luath as soon as possible especially if you like to join in with the New Years Eve Party. If you like to book any programme (including lift passes, rental equipment, etc.) please contact Paul (Programme Admin Assistant).
All other information is available in the secure Ex-Staff section of the KISC website.
---
Wedding in Brasil
It is happening again! Two Ex-Staff will mary on 16th January 2010 in Brasil.
Luiz and Carol did meet before they came to Kandersteg but their relationship survived with Luiz being the House Manager for nearly 12 months in 2007 with Carol joining him as Reception Assistant over the summer.
We wishing them both a beautiful day in January and a long lasting happy marriage!
Please congratulate them by sending an email or by leaving a message on their respective Facebook profiles: Luiz & Carol
---
Vacancies Summer 2010
If you have been dreaming about returning to KISC we have an option for you that not only allows you to return but even to support the Centre by working for 4 or 5 months and to be part of another incredible summer at KISC!
Some of the positions do not require the applicant to have been a member of Staff before, so if you can not return to KISC in 2010 but you know a great Scout or Guide among your friends or in your group/district/region - please make them aware of this unique opportinity!
More information can be found here for the 4 months positions or here for the 5 months positions.
---
Seasonal Greetings
From all the Staff here at the Centre: Happy Christmas and a very good 2010!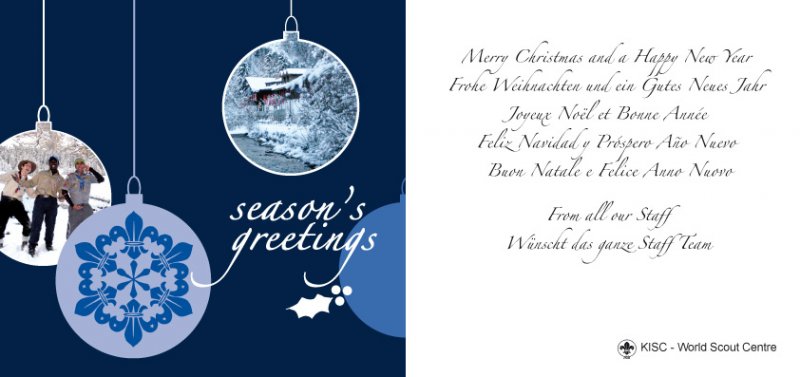 ---
If you have anything you like to share with the Ex-Staff send me an email.
Hope to see you either at the Ex-Staff reunion or else in 2010!
Regards,
Mark Knippenberg - Director
---

Disclaimer
This confidential e-mail is for the addressee only. If received in error, do not retain/copy/disclose it without our consent and please return it to us. We virus scan and monitor all e-mails but are not responsible for any damage caused by a virus or alteration by a third party after it is sent.
Newsletter Abmelden